I've decided that running has pretty much become my part-time job these days. And then I go and spend a full day at the office on Saturday.
The Background
The Catoctin 50k had piqued my interest every since I noticed it on the Frederick Steeplechasers Grand Prix schedule early this year (or late 2011, I really can't recall). With a little research I realized it was a race that existed back toward the days when I was still technically a county resident. However, when I did my basic checking it seemed this year's race was full. I continued to train and plan for my marathon in June and wondered if I could find some small, flat easy 50k for the fall. I also considered the JFK 50 Miler for a while, particularly since my White Rock 3:35 was A standard and pretty much guaranteed my entry for that one. But I thought jumping from a marathon to 50 miles was a bit too much. Fast forward a little while and I realized the message on the website that said the race was full was for the 2011 race, and the 2012 edition had not opened. If I wanted, the race was very much on the table for my summer. Still I was locked in to Grandma's Marathon and the 6 weeks between would either be a great thing, or the worst thing possible. I decided I didn't want to really race the 50k and then it wouldn't be a big deal if I wasn't posting high mileage weeks or high intensity workouts during the times in between.
I did have to familiarize myself with the course, mainly for two reasons. To make damn sure I knew what I was getting into, and to know the course so when I was attempting the longest distance I had ever attempted, I would not get lost and do 35 or 36 miles instead of 31. It's a common occurrence, according to the race site, and to my friend Joel who ran back in '05, I believe. I still had a few months, and decided I could make 4 trips out to the old 'hood and cover the complete course. This was rather optimistic given my propensity to hop in races at the last minute. I managed to run on the course twice. The first was the basic start, going as far as I felt able and returning back. It was hard to discern how far I really went, but I was confident I was just short of Hamburg Road (the site of the first aid station, 6 plus miles along the course). The second trip I started at Hamburg and backtracked for about 5 minutes, further convincing myself I had come just short of that on my first run. I then continued down the other direction toward the manor area. The total on that run was about 2:40 minutes and had me feeling pretty good about finishing the thing. It was after Grandma's, and I started later in the morning to get a feel for the heat and humidity. I also managed to forget the hand-held water bottle I bought and ran all 2:40 pretty much without water. I felt like death when I got back to the car, but after pounding Gatorade I was human again. The previous day I had a run a rather fast-paced 7 miles in the heat and convinced myself to bail (it was only $25 fee, and it would get donated to park or a group that maintains the trail if I did bail, I think). So, three weeks out I was locked in for the fun in shade that is the Catoctin 50k.
The Course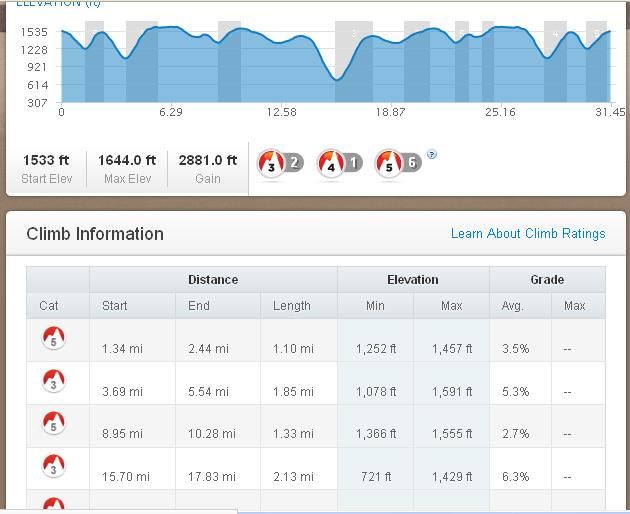 This is my best attempt at mapping this thing. I used mapmyrun and several different online sources to get to this point. Key points are the start and nearly the highest point, immediately followed by a mile or two of steep downhill, followed by immediately climbing back up again. And then pretty much the same down-and-up sequence again. Naturally the course is an out-and-back, so those same up and downs return at the very end. They don't call it high knob because it's lower then the surrounding terrain, and I did not appreciate their candor when I was making my way back up the finish after a long time in the woods. And, in case you though I wasn't going to mention it, yes that's (by far) the lowest point on the course smack dab in the middle. Rather genius of them to plan it that way. At the start they mentioned when one reaches the turnaround, one is basically 1/3 of the way done with the race, despite having covered half the miles. Finally, the course itself. Rocky doesn't even begin to describe it. I think we need a new word to describe the hoping directly from rock to rock down those slopes of the blue trail. Being part Mountain Goat wasn't going to cut it, you needed to be full goat...
The Race
Race weekend came and I was trying to get myself prepared. I had bought the hand-held water bottle. On advice from others I bought a second bottle, but smaller and decided to try and fit in my pocket. I picked up several cliff shot blocks (gummy version of the energy gels) which I decided I like better on the trails, i'm not really sure why. I ate a nice meal the night before (with some left over for after when I didn't feel like cooking) and tried to get some sleep. The Olympics weren't helping as I stayed up watching the athlete's parade. And round about 5 am I was awake and it was clear I wasn't getting back to sleep. I took the dogs out and tried to do the rest of a normal routine. My stomach has tended to not be entirely settled on race mornings, but i've yet to have any of 'those' issues while actually running. I walked the dogs and hit the road. I managed to remember everything I needed (they won't let you start without at least one 20 oz. bottle). I missed getting a speeding ticket by an eyelash just over the border into Frederick County. Not sure how I missed that one, but I was thinking maybe it was going to be my day. I also got the last parking space at the top of the hill. It's just not quite big enough to fit all the cars for a 175+ person race.
For once in my life, I felt 0 compulsion to warm up. So I did not. I found my friend Becky and hung out until the start. She worried me a little stating the race was more difficult than the JFK 50. I still don't know about that. I know the course is much tougher, but 50 miles is such a massive amount of distance to get one's head around. I might be able to be convinced she is right, though. The pre-race brief was short and humorous. They noted people that had done the race 5, 8, 10+ times. They asked about first timers, and a group of people raised their hands, but they clarified to first ultra period. It was just me and maybe two others with our hands up (the website strongly discouraged the race as a first ultra, have I mentioned that?). I was hoping for home field advantage, and being lax about my real goal to get me through.
At the end of the brief the race director said go, and after a second everyone was off. It was a loop around the parking lot before departing for the trail, which is necessary cause it was pretty much single track after that point. I settled into a position behind the lead pack (maybe 20 or so folks). I might have be overly optimistic cause some folks were stacking up behind me (or at least it felt like it), so I let some people pass. The 250 or 300 feet of downhill immediately at the start has one feeling great and it was all fun and games as we skipped down the rock path. But after a mile it turns back uphill and it was a moment of truth. If everyone continued to blast up the hill, then I was out of my element and it would be a long day. But, at least where I was by that point, everyone did walk. Perhaps a little more briskly than I was walking, but walking all the same.
The first 6 (or 6.8 or whatever) are pretty tough, even on fresh legs. Walking most of the hills and keeping a good pace we were about where I had turned around on my first trial run, which I though was super close to the first aid station. I was not correct with that assumption. I was at least 15 minutes short of the road when I turned at just under 1 hour. I was about the same spot at an hour into the race (perhaps a sign I was going out too fast, perhaps not). The cutoff at the first aid station was 1:45 and I was arriving at about 1:15. I was amazed it was so close to the cutoff time, but I think it was to weed out anyone trying to walk the whole thing. I had planned on taking full advantage of the aid stations, stopping as long as I felt like it. This was the first and I stopped and grabbed some watermelon. They refilled my water bottle (I was still on the hand-held) and I took some time, but I was making good progress so I continued on down the trail. The course eases up after this point (relative) and it's only 3 miles or so to the next road and aid station. I actually went through without stopping as I hadn't taking much water and I had taken my first cliff shot block pack.
The next stretch contained a series of switchbacks, which were my least favorite part of the course. They weren't that steep, but they were endless. As much as I disliked them going down, I knew they would be a hundred times worse going back up. I almost felt dizzy going back and forth. I was still running in close proximity to other folks at this point, which surprised me a little bit. I knew from pouring over the past results, most folks were minutes apart and I figured most of the time I would be on my own. This was not the case in the first half of the race. There was a third aid station, not really official. Thankfully it was there as it was mistake to pass Delauter Road. They filled my water bottle and I grabbed more watermelon. I also had them open my cliff shot block package, I was having trouble opening them with sweaty hands. I don't think I ate that package for a while later, though. I was not really trusting my stomach at this point. Although I did figure out if I took the blocks, I would be able to drink right after, cause in the middle of the race I was struggling to even drink. The second, smaller bottle became the 'pour water over my head' bottle, which was working well. I didn't use it much on the way out, but it was pretty handy coming back.
The course rolled for this part, if i'm remembering correctly, and I knew we had to be getting to the big decent soon. I was past where I had reached on my training runs, and I was in new ground. I don't remember the order, but there is an overlook along the path which views east onto the valley below. It's significant as a landmark. Also at some point I heard the sound of the highway and that was also a big deal, knowing the Manor Area was right off US15. But there was still a lot of hill to descend, down to the lowest point of course, basically at the valley elevation. I was also expecting to see the leaders coming back in the opposite direction and they were much later. When they did pass going back up the hill they looked so strong. I knew I wasn't going to be running much when I was heading back up that way, so it was impressive to see. The first place woman, who I had briefly ran with at the Lewis 10 Miler before getting dropped like a bad habit, was up in the top 10 and looked strong as well. Followed by the second place woman not much behind. It was great to see.
Halfway
I reached the bottom of the hill at 3:15, just short of the amount of time I think it would take me to run a road marathon these days. I had a developed a pretty good rhythm, but mostly because the course past Hamburg Road was more down than up. I probably didn't spend enough time recharging at the stop, as I grabbed a cup of flat coke and some more watermelon. I think it was something like 3:17 when I started back up, which means only two minutes of break. Other folks seemed much more willing to take full advantage of the aid station, which was probably the wise thing to do. After the turnaround, it was pretty much back up the hill we had just come down, so it meant walking back up. It was a rather long way to walk, at least a couple of miles. It flattened out a couple places and I would shuffle through those. Once reaching the 'top' it still seemed to continue to go up. Plus there was the switchbacks, which were just as awful as I was expecting. They were filling my water bottle with ice at this point, which was just awesome. I think I was forcing myself to take some of the blocks as I really only eaten 1 by this point. As I cross over 4 hours it was getting close to uncharted territory for me. The longest I had ever been out attempting a race was the 4:15 I logged at Grandma's that was just 6 weeks prior. But I was not hurt beyond some minor knee aches and the skin that had rubbed off my ankle. So I continued on the path, occasionally getting passed, but not really caring too much about it.
It was supposed to be 6 miles from the Manor Area to Delauter Road, but it felt like 10. At one point I convinced myself we were running a part of the trail that was prior to the stop on the way out. Even the occasional blue blazes were not comforting, I managed to turn that around that we had gotten off and back on missing the station (and basically killing the race, as there was no way in Hell I was going back to the check-in I had missed. But I was just getting addled by the 5 plus hours out on the course and we did eventually come to Delauter Road. I took full advantage this time. I sat down for a minute. I had Gatorade, I even asked for a band-aid to put on my ankle to try and minimize the damage that was being done (it was pretty useless, though). It was at least 2 hours from Manor, and I extrapolated that I was heading for 8 hours. I was a little dismayed, thinking I had a shot at a sub 7 or better, but at this point all that mattered was finishing. I was off up the trail again (it was generally still rather uphill at this point, not really any significant downs until after Hamburg, 3 miles up the way). Once I reached Hamburg it was more of the same. A full sit, a couple of glasses of cold(!) Turkey Hill Iced tea. I even took the salt tablet, which I had never done before in my life. And just before six hours into the race, I got a kick in the behind from Bob, who I knew from growing up and I just had to tackle the last 6+ to the finish. If I could managed less than 2 hours back I would even break 8.
Nothing really good happened in those last 6 miles. The hills were soul-crushingly steep and long. I stumbled on a steep down and completely stressed out my right calf. I stopped and rubbed it back into submission, as the alternative was to crawl back to the aid station. It was multiple hours longer than my furthest race at this point and I was really just putting one foot in front of the other. It was also getting to be well after noon and the sun was breaking through a lot places and that wasn't helping at all. I managed to not use all my water until the very end, i'm not sure how. I ate more blocks, and strangely still had a full pack which I didn't feel the need to use. The course has a tease where you reach a lower parking lot about a half mile from the finish. It feels like you are almost done, but it's still another 100 feet or something up to high knob. Darn you High Knob for being so high. But I staggered my way up and finished 7 hours, 46 minutes, and 48 seconds after I had departed from that same spot. It was a full day at the office.
Epilogue
My re-ward. No shirt. No medal. Just a card that says I finished. It's pretty awesome. Certainly a long way from where I was a year and a half ago. Maybe even further along than back in 2000 when I took the marathon plunge right after college. Probably not going to make a habit out of these things, but I certainly don't dread the 50 miler the way I did a couple of days ago. I think it will be a (mostly) flat one. If JFK was a spring race it would probably workout, but it isn't. So it's back to marathon redemption to close out 2012. Hopefully it will be a little lighter, a little faster, and injury free.